7 Steps to Fatigue Recovery Programme (Inc Sleeptek) - OVER 50% OFF - SAVE £880 - Payment Plans Do not Apply
Check your eligibility
Fast check - won't affect your credit rating.
6 Week Seven Step Fatigue Recovery Programme

Regular Price =

£1675.00
Special Subscribers Launch Offer
£795.00
A Saving of £880.00
That's Over 50% OFF
Enter Your Special Offer Launch Discount Code on checkout:
7stepstek
Your Package Includes:                                                                                               
Sleeptek 2.0 - This will be Yours & You will Own it.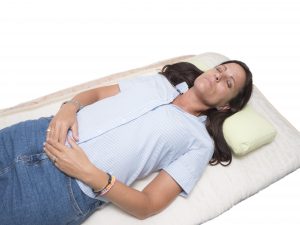 GENTLE FAR INFRARED INFUSION WHILE YOU SLEEP - NO TIME TREATMENT (NTT)

Now you do not have to take a moment out of your day for your Far Infrared session.
You get all of the benefits of your Far Infrared treatment helping you recover from your fatigue/health challenges and rejuvenate your body ALL while you sleep.

How can I take my Far Infrared Treatment during a blazing Hot Summer, when the last thing I want to do is get all hot and sweaty?
What if You Could Use Far Infrared Without Warming Up the Body Whatsoever?
It seems a bit strange to even suggest you can use Far Infrared without warming up the body because after all as we all know Far Infrared warms you up.After all it is a Sauna right?
We thought about this long and hard.
Dual Active Technology is Born
This uses special Bio-Ceramic materials that are ACTIVATED by body heat.Meaning your body heat triggers the 'Bio Ceramics' to produce Far Infrared - simple.
Introducing the Advanced Sleeptek 2.0 Mat
With the Sleeptek mat in your bed you just lie on it while you sleep and your body heat activates the mat to generate Far Infrared WITHOUT HEATING YOU UP at all!
The comfortable, gentle and effective infusion of Far Infrared will enhance your body's natural repair & healing all this while you are fast sleep.
PERFECT!
The Best of Both Worlds
The Dual Active System also has it's own heating system that can be used whenever you want to heat the system up to a temperature of 80 degrees Celsius.
So when it's Summer and seriously hot let your Body heat activate the SLEEPTEK - and you can take your COOL Far Infrared Treatment without getting hot in the slightest and you still get your Far Infrared Infusion.....
When it's cold just turn on the heating system and take your Far Infrared treatment at whatever temperature you want anything up to 80 degrees Celsius.
CLICK HERE TO LEARN MORE ABOUT THE SLEEPTEK

It's a Revolution
Our Dual Active system is will serve you all year round during the hottest summer or the coldest winter and of course anything else in between.
Repair Your Body While Sleeping - 8 Hours Repair Time

Using the Sleeptek 2.0 during sleep means you are able to:
Detox

Burn calories

Reduce stress

Help Pain

Improve Circulation

Boost immunity

Increase energy levels and more...
All while you sleep, It does not get any easier that.
Enter Your Special Launch Offer Code on checkout :
7stepstek



A Saving of £880.00 That's Over 50% OFF
CLICK HERE TO LEARN MORE ABOUT THE SLEEPTEK
6 x Gentle Beginnings (Level 1) online Classes

The Gentle Beginnings programme will provide live online webinar guiding you through a series of seated exercises live online. This programme will help you restore muscle tone and strength improving mobility and circulation.
Seated Exercise Programme To Restore Movement, Mobility & Circulation.

Live online  Exercise Sessions once a week for 6 weeks.

Access to Webinar Recordings
6 x Group Easy Detox Support online sessions

1 Live online Group Support Session once a week for 6 weeks.

Detox programme Guidance, Monitoring & Q&A's

You work with our live online group for your weekly support group calls;




we will monitor & guide you helping with your programme.

This is so helpful when we are jumpstarting the body and getting




it to start working again.

This means you go at your pace ensuring you do not over stress




the body by detoxifying too quickly



3 X ThinQ Fitt - Recovery Mindset and Reducing Stress online Classes

The ThinQ Fitt training will include 3 webinars that run every 2 weeks. This will help you make the transition out of Survival mode into Recovery Mode preparing you for getting your life back and living normally once again. Make no mistake this mindset preparation may well be one of the most essential parts of your programme.
From Survival to Recovery

Seeding the Recovery Possibility

From Disappointment to Self Confidence

The Journey Begins With Awareness

Introducing Recovery Thinking

Nervous System Reset – Simplest Reset Techniques
Lifetime Access to Members Area

You will learn everything you need to know about Far Infrared and how
it will help you recover and also how it may help friends and family.
The more you learn the more people you will be able to help restore their health.
The Members Area will be regularly updated with new trainings and all webinar
recording will be contained in the learning area so you can revisit past trainings.
Free Membership to The Get Together Community

You will have lifetime access to the Community;
Get answers to your questions and receive updates
regarding the latest developments for Fatigue Recovery
and everything you will need for your lasting good health,
happiness and prosperity.
Community Members receive free giveaways, special offers, discounts,
and early bird access to product launches, early access to regular webinars
and much more….
We Pay for Your Shipping (UK Only)
We use only the leading couriers for our worldwide delivery that we have come to know and trust.
99% of the time they deliver reliably well. This means you get your package safely, securely, and on time.
SPECIAL BONUSES -

PRE-RECOVERY TRAINING

IMMUNE BOOSTING TRAINING
Regular Price =

£1675.00
Special Subscribers Launch Offer
£795.00
A Saving of £880.00
That's Over 50% OFF